What Is 316 Stainless Steel Pattern Plate?
316 stainless steel pattern plate is often embossed on the 316 stainless steel plate by mechanical equipment to form concave and convex patterns on its surface. Compared with other stainless steel flat sheets, it offers excellent physical and chemical properties as well as functional anti-slippery properties, making it widely used in food industry equipment, ordinary chemical equipment, building, household projects, dinnerware, cupboard, water heater, bathtub, architectural designs, etc.
Grade 316 stainless steel is the second most widely used stainless steel grade next to 304. It is generally composed of 16 to 18% chromium, 10 to 14% nickel, 2 to 3% molybdenum, and a small percentage of carbon. The molybdenum gives 316 stainless steel better overall corrosion-resistant properties than grade 304, making it have particularly higher resistance to pitting and crevice corrosion in chloride environments.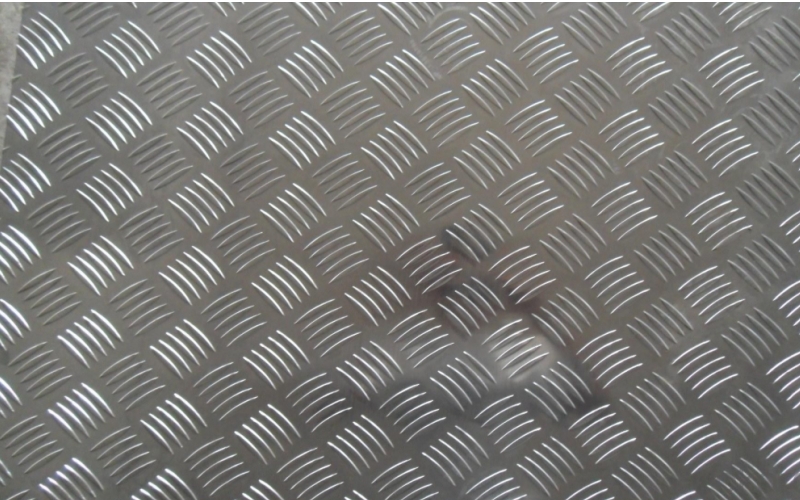 316 Stainless Steel Pattern Plate Sizes
| | |
| --- | --- |
| Standard | JIS, AISI, ASTM, GB, DIN, EN, SUS |
| Grade | 316 |
| Thickness | 0.3 mm — 12 mm |
| Width | 500 mm — 1500 mm or as requested |
| Length | 500 mm — 2000 mm or as requested |
| Tolerance | ±1% |
| Pattern designs | T-shaped, round bean, lentil, diamond, bar-shaped, rice grain, etc |
| Finish | frosted, matt, mirror |
| Packing | PVC + waterproof or paper + wooden package |
International Stainless Steel 316 Grade Comparison Table
| | |
| --- | --- |
| China | GB-06Cr17Ni12Mo2 |
| Japan(JIS) | SUS316 |
| America | ASTM 316,  UNS S31600 |
| Korea(KS) | STS316 |
| Germany (DIN) | 1.4401 |
| European Union | BSEN 1.4401 |
| India | IS-04Cr17Ni12Mo2 |
| Australia | AS 316 |
| China Taiwan | CNS 316 |
Manufacturing Process
Generally speaking, 316 stainless steel patterned plate is embossed on the stainless steel plate by mechanical equipment, thus having raised patterns on its surface. But according to its specific manufacturing process, it can be divided into two categories: rolling and stamping. Let's explain them one by one.
1. Rolling
It is rolled by rolling mills when producing stainless steel sheets or plates. As the 316 stainless steel plate comes in the state of annealing and pickling after hot rolling, it will go through the following series of operations:
316 hot rolled stainless steel plate — annealing and pickling — embossing — straightening — cross-cutting — examining — 316 stainless steel pattern plate
One side of this type of embossed plate is flat and the other side is patterned, with a thickness range of 3-6mm. Therefore, it is more commonly used in the chemical industry, railway vehicles, platforms, and other occasions that require strength.
2. Stamping
This type of 316 stainless pattern plate is stamped on the surface of hot rolled or cold rolled 316 stainless steel plates, which are formed by applying a die with a pair of matched concave and convex rollers. In consequence, they are concave on one side and convex on the other, more suited for general civil decoration.
*When manufacturing, we should notice that the standard of stainless steel pattern plate is that the pattern height should be greater than or equal to 20% of the thickness of the substrate.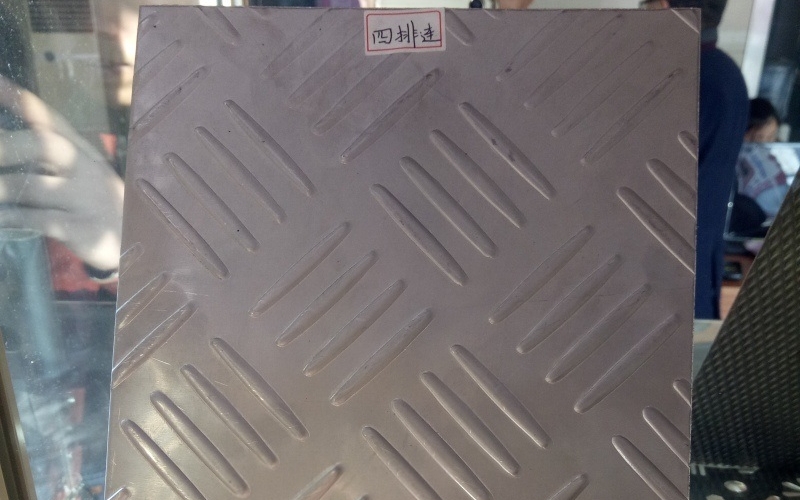 Product Features
Here are some characteristics of 316 stainless steel pattern plate:
1. Excellent Corrosion and Rust resistance
Since grade 316 stainless steel contains a molybdenum element, bearing it has a greater resistance to chemical attack than grade 304 when exposed to a range of corrosive environments and media. It is highly resistant to pitting and crevice corrosion. However, it is not resistant to warm sea water as the warm chloride environment can cause pitting and crevice corrosion.
2. Good Processing Performance
Similar to other stainless steel grades, 316 stainless pattern plates can be easily processed and shaped, like forming, welding, heading, drawing, etc. It can allow for the creation of various parts for applications in the industrial, architectural, individual, and transportation fields. Processing can be enhanced using the following rules:
– Cutting edges must be kept sharp. Dull edges will cause excess work hardening.
– Cuts should be light but deep enough to prevent work hardening by riding on the surface of the material.
– Chip breakers should be employed to assist in ensuring the swarf remains clear of the work.
3. Aesthetic Appeal
There is an extensive range of pattern options for this kind of metal sheet, which not only can enhance its decorative value but also provide anti-skid performance. That's why it's popular among lots of architects and designers to make their projects with different visual effects to meet different specified requirements, adding a stylish and contemporary look.
What's more, at Gnee Steel, the surface of embossed metal sheets can be finished with PVC coating to provide extra protection.
4. High Toughness
Because of its austenitic microstructure, stainless steel 316 can retain its toughness over a wide range of temperatures, unlike ferritic and martensitic grades. Ferritic grades tend to form intermetallic phases that contribute to embrittlement, while martensitic grades generally have high carbon content, making them intrinsically harder but more brittle. Therefore, 316 stainless steel plates can resist deformation and withstand heavy loads and impacts.
5. Easy to Clean
It has a smooth and glossy surface, making it resistant to stains and less likely to harbor bacteria or contaminants. It is also easy to clean and maintain, which can be used in industries that require high levels of hygiene, such as food processing and medical applications.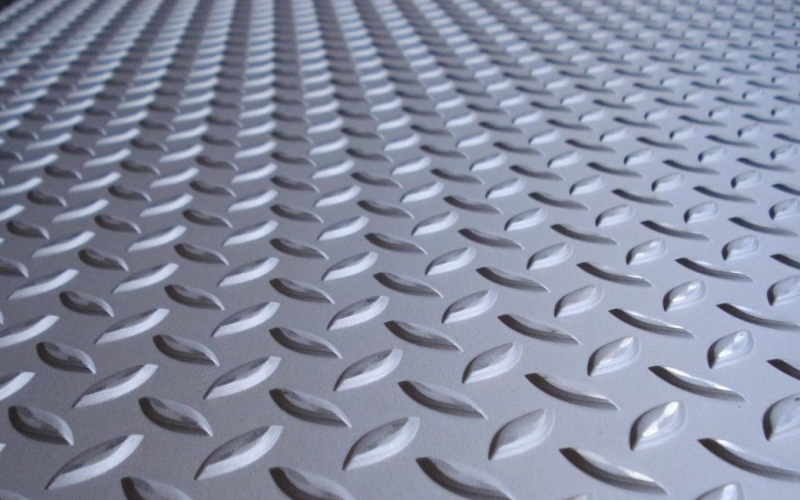 Plate Applications
In the early 1960s, large-scale rolling mills in Europe began to produce stainless steel pattern plates on a small scale. and then because of its excellent corrosion resistance and anti-skid property, it has been adopted by many industries and has become popular. Nowadays, 316 stainless steel patterned plates can be used in:
1. Construction: plants, refineries, marine equipment, shipbuilding, coastal balustrading, paneling, roofing, flooring, metal curtain wall, architectural decoration, and some somewhere with high salinity.
2. Machinery: food processing equipment, brewery equipment, chemical and petrochemical equipment, laboratory benches & equipment, Gas purification equipment, etc.
3. Transportation & Road: Chemical transportation containers, railways, console pedals, stairs, flyover passage, conveyor belts, etc.
4. Public Uses: heat exchangers, medical/healthcare appliances, elevators, cabins, knives, nuts and bolts, boat fittings, springs, etc. With more and more scientific research investment and development, the use of 316 stainless steel pattern plates in the world is no longer limited to the professional fields and industrial applications of anti-skid and anti-corrosion. Its new application is waiting to be discovered by you.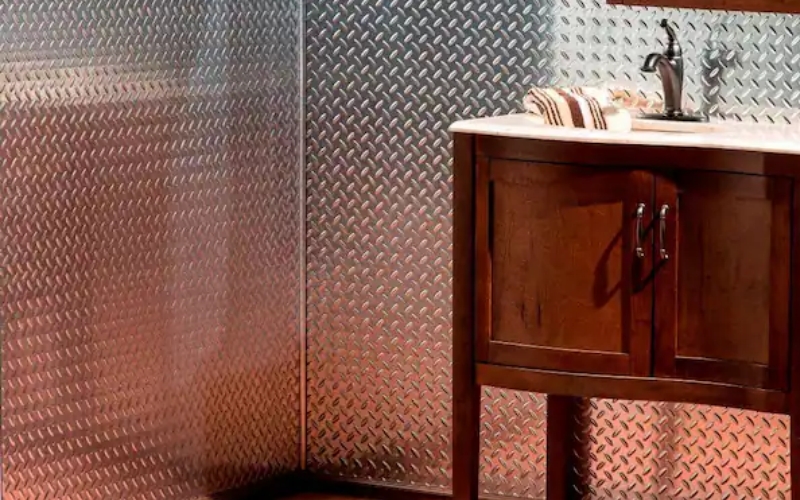 Stainless Steel 316 vs 316L, Which is Better for Your Project?
As one of the most commonly used stainless steel in the market, the stainless steel 316 series has two primary types — 316 and 316L. If you're new to selecting steels, then it might be confusing to tell the difference between them. Therefore, this part will explore the fundamental differences between these two alloys from several aspects so that you can choose the best one for your project.
1. Chemical Composition
The key difference between 316 and 316L stainless steel lies in the level of carbon content.
316L stainless steel is almost identical to 316. But in terms of carbon element, stainless steel 316L (L= low carbon) has a lower proportion of carbon in its composition, generally not exceeding 0.03%. This can preclude any harmful precipitation in the 800º F to 1500º F range that might result from welding heavier sections, making it a better option for welding to ensure maximum corrosion resistance. Also, 316L does not require post-weld annealing, extensively used in heavy gauge welded components.
By comparison, 316 stainless steel has a maximum carbon content of 0.08%. Here is a simple table sheet for your reference.
| | | | | | | | |
| --- | --- | --- | --- | --- | --- | --- | --- |
| | C | Cr | Mn | P | Si | Ni | No |
| 316 | 0.08 | 16-18 | 2 | 0.045 | 1 | 10-14 | 2-3 |
| 316L | 0.03 | 16-18 | 2 | 0.045 | 1 | 10-14 | 2-3 |
2. Corrosion Resistance
With lower carbon content, 316L stainless steel is more corrosion-resistant than 316. In other words, 316L can last longer in high-chloride environments and has better resistance to pitting and crevice corrosion over its useful life.
3. Application
Both are strong and highly useful, but each has unique strengths.
316 stainless steel, is primarily used in construction and infrastructure because it is strong, resistant to pitting, and corrosion-resistant in most circumstances. Examples of such uses include making heat exchangers, pieces of pharmaceutical and photographic equipment, pumps, medical implants, condensers, semiconductors, and parts constantly exposed to the marine environment.
316L stainless steel is more used in construction due to its high strength and low susceptibility to intergranular corrosion. Others include food processing equipment, chemical processing equipment, medical devices, marine applications, power generation, and so on. What's more, SS 316L can be used in applications where annealing cannot be performed after welding and maximum corrosion resistance is required.
4. Magnetic Property
316 stainless steel has very low responsiveness to magnetic fields while 316L steel is more susceptible to gaining some degree of magnetism.
5. Processability
Both materials have excellent malleability, meaning they can be easily machined and fabricated into diverse shapes, including bending, stretching, deep drawing, spinning, piercing, and other processes without sustaining cracks. However, when it comes to welding, 316 stainless steel will require annealing when welding, while 316L itself is useful enough to fight against corrosion without any additional steps.
6. Mechanical Property
316 stainless steel has better mechanical properties compared to 316L stainless steel. It is harder, ductile, and has more tensile strength than 316L. A comparison between stainless steel 316 and 316L in mechanical properties, including yield strength, tensile strength, elongation, and hardness is as below.
UTS

N/mm

Yield

N/mm

Elongation

%

Hardness

HRB

Comparable DIN number
wrought
cast
316
560
210
60
78
1.4401
1.4408
316L
530
200
50
75
1.4406
1.4581
7. Cost
Generally speaking, the cost of 316 and 316L are not affected by the above factors. They are approximately the same. Therefore, when buying, your choice should be more dependent on the need for your project.
When determining whether to use 316 or 316L stainless steel for your application, it is important to take the above factors into account. Both types offer excellent corrosion resistance, but if maximum strength against chloride attack is desired, then go with the former; however, if superior weldability is more critical, then opt for the latter since it will have better results in this regard due to its lower carbon content. If you still have some questions, welcome to contact Gnee Steel, and we are honored to help you choose the perfect steel and get started right away!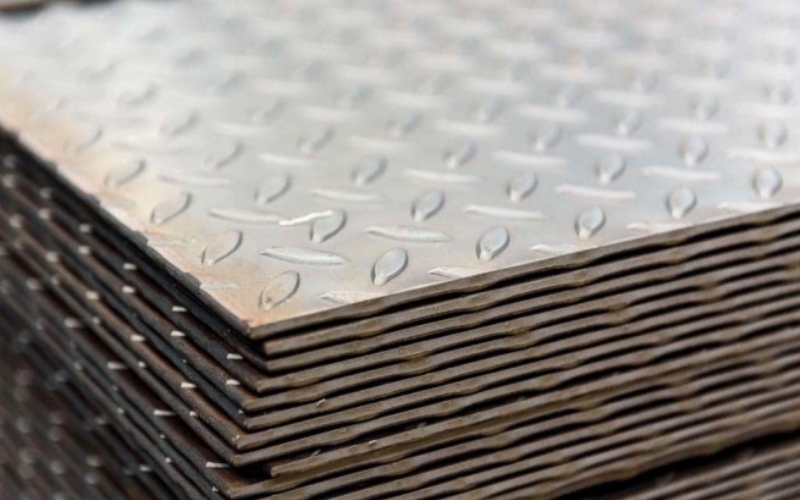 High-quality 316 Stainless Steel Pattern Plates for Sale
Gnee Steel has a factory with an area of about 22,000 square meters for the production of stainless steel products, including 304/304L stainless steel, 316/316L stainless steel, and more. Special specifications and materials can be guaranteed to be customized in our factory to satisfy your needs. Browse our catalog or contact us today to learn more about our metal selection. You can also request a quote to start your business too.