How Is the Plate Fabricated?
Generally, 301 stainless steel pattern plate is processed by 301 stainless steel plate, so that the surface of the plate has uneven patterns. According to its working method, it is often divided into two modes: rolling and stamping.
1. Rolling
It is often produced by a steel mill through hot rolling lines in the production of stainless steel in the factory. The main thickness of this kind of plate is about 3-6mm. The working procedure for the hot rolled 301 stainless steel pattern sheet is as follows:
301 stainless steel sheet/plate — rolling by hot continuous rolling mill (choose whatever patterns you like) — annealing and pickling — leveling, straightening, and polishing — cross-cutting — cooling — examining — packing — finishing
It's worth noting that this plate is often flat on one side but patterned on the other. Therefore, it is more commonly used in occasions requiring strength, like the chemical industry, railway vehicles, platforms, mechanical processing, etc.
2. Stamping
On the contrary, this kind is often manufactured in room conditions. The fabrication steps are:
Hot/cold rolled 301 stainless steel plate — mechanical stamping — sizing — watering — testing — packing
In most cases, cold rolled stainless steel plates are selected to manufacture 301 stainless pattern plates, which have a smoother surface and more accurate size. What's more, they are concave on one side and convex on the other, more applied in general civil decoration occasions.
*Notice: it needs to remember that regardless of which production method is used, the factory should notice that the height of the pattern should be greater than or equal to 20% of the thickness of the substrate.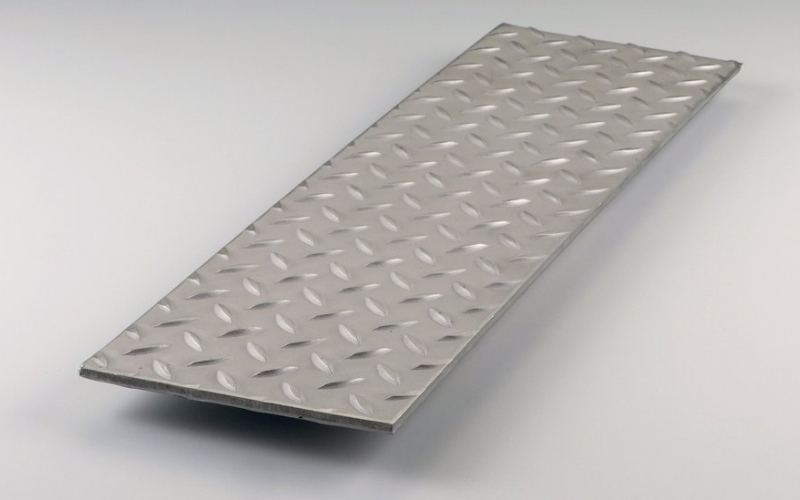 301 Stainless Steel Patterned Sheet Size
Here is a 301 stainless pattern plate specification table from Gnee Steel for your reference.
| | |
| --- | --- |
| Grade | 301 |
| Standard | ASTM, AISI, GB, JIS, DIN, EN |
| Thickness | 0.3 mm – 10 mm or as required |
| Width | 600 mm-1500 mm or as required |
| Length | 1000 mm-12000 mm or as required |
| Patterns | lance-shaped, lentil, T-shaped, bar-shaped, diamond, round bean, linear, etc., |
| Plate condition | full hard, 1/2 hard, 1/4 hard |
| Finish | No.1, 2B, BA, NO.4, 6K, 8K, HL, matting, polished, PVC-coated, anti-fingerprint, etc., |
| Delivery Time | 3-15 working days after the receipt of the 30% deposit |
Stainless steel 301 Equivalent Grades:
China
GB:12Cr18Mn9Ni5N

Taiwan: 301

Japan (JIS)
SUS 301
America
ASTM 301
Korea
STS 301
Europe Union (EN)
1.4319
India (IS)
10Cr17Ni7
Australia (AS)
301
Why Use 301 Stainless Steel Pattern Plate?
It has many more enormous benefits you can enjoy. For example:
1. Anti-slipping Performance: this type of plate features a raised design on its surface. It can provide two functions: anti-skidding. This uneven style can increase friction and prevent slipping. Thus it is widely used in applications that require high friction like stairs, roofing, conveyor belts, and so on. Decorative appeal. These patterns enhance its visual appeal and decorative value and thus can be used in architecture and interior design projects to add aesthetic appeal.
2. Corrosion and Rust Resistance: with the addition of chromium and nickel contents, grade 301 stainless steel exhibits good resistance to corrosion and rust in mildly corrosive environments. It can also withstand exposure to moisture, alkaline gas, and some chemicals.
3. Smooth & Bright Surface: stainless steel products are smoother, glossier, and neater than many conventional steel products. In the Gnee factory, the worker will use the precision cutting instrument to make sure the surface of the 301 stainless steel patterned plates is flat and has no scratch or burr.
4. Good Ductility: grade 301 is highly ductile and well-suited to welding, forming, and drawing. It can also harden rapidly during mechanical processing. What's more, its wear resistance and fatigue strength are better than 304 stainless steel.
5. Easy Maintenance: like other stainless steel grades, the 301 stainless steel pattern plate is relatively free from maintenance. It is strongly resistant to staining, rusting, and tarnishing, making it easier to clean and maintain its appearance.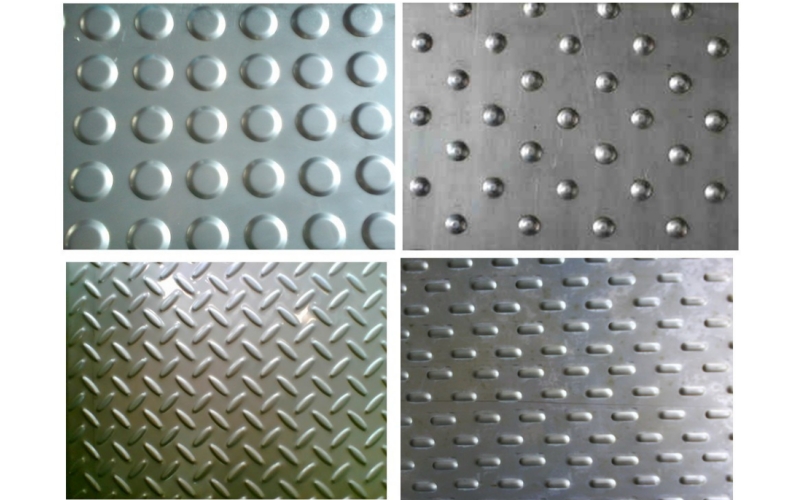 301 SS Pattern Plate Applications
Nowadays, as people's diverse needs increase, the applications of 301 stainless pattern plates are no longer limited to the professional fields and industrial applications of anti-slip and anti-corrosion. It also provides for increased aesthetic and decorative needs, constantly meeting the needs of human high-quality life and industry innovation. Here we list some detailed examples for your reference. They are:
Elevator decoration, ceiling, roofing, stairs, cabin structure, metal curtain wall, conveyor belt, packing & printing, logistics equipment, tanks, wheel covers, conveyor belts, subway & railway cars, springs, hose clamps, trailer & truck bodies, kitchen equipment, tractors, food service equipment, trailers, aircraft components, advertising nameplate, interior & exterior decoration, and so on.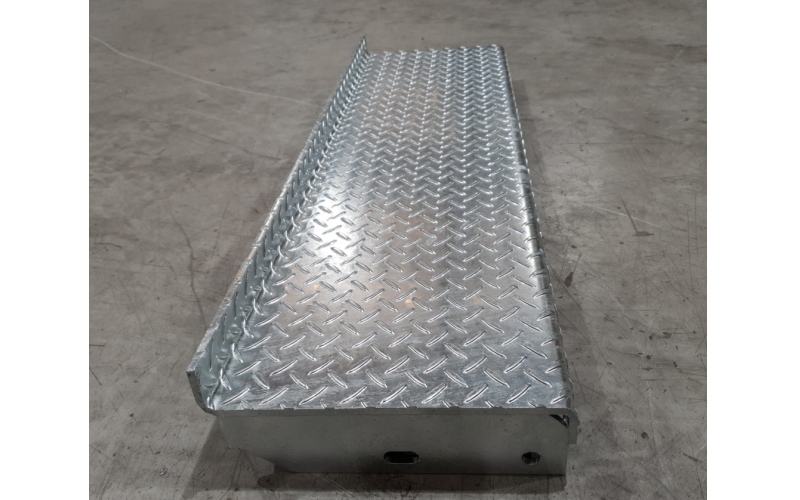 Difference Between 301 and 304 Grade of Stainless Steel
Although both are stainless steel 300 series products, grades 301 and 304 have different characteristics in terms of composition, corrosion resistance, cost, processing performance, tensile strength, application, and so on. Let's have a look below.
1. Chemical Composition
The main difference between 301 and 304 stainless steel composition lies in the element content of C, Cr, and Ni. Here is a complete table chart of 301 and 304 chemical compositions you can learn:
| | | | | | | | | |
| --- | --- | --- | --- | --- | --- | --- | --- | --- |
| | C | Si | Mn | P | S | Cr | Ni | Mo |
| 301 | ≤0.15 | ≤1.00 | ≤2.00 | ≤0.045 | ≤0.030 | 16.00-18.00 | 6.00-8.00 | – |
| 304 | ≤0.07 | ≤0.75 | ≤2.00 | ≤0.045 | ≤0.030 | 18.00-20.00 | 8.00-11.00 | – |
2. Corrosion Resistance
It is clear to see that grade 304 is much more resistant than 301.
Grade 304 has an 18% minimum chromium content and 8% minimum nickel content, which contributes to providing excellent corrosion and oxidation resistance and helping maintain the metal luster.
With a lower level of chromium and nickel, grade 301 is more susceptible to corrosion and oxidation and looks dull over time.
3. Processing Performance
Grade 301 has a good ability to form, cut, weld, fabricate, and so on. As for grade 304, when it is mechanically stamped, it is too brittle to break.
4. Tensile Strength
Due to the high carbon content in grade 301, it is much more ductile and more resistant to mechanical force. In room temperature conditions, it can withstand 120 ksi (kilo pounds per square inch).
Grade 304, on the other hand, can only withstand 90 ksi of pressure before experiencing mechanical failure. That is to say, at room temperature, 301 stainless steel can take up 33% more stress than the 304 grade.
5. Application
Comparatively speaking, 304 is more applicable than 301 due to its stronger anti-rust performance and wider adaptability.
Grade 301 is majorly used in the production of trailers, automobile parts, wheel covers, industrial springs, conveyor belts, connectors, etc.
Grade 304 is more applied in food & beverage processing, machinery, kitchen appliances, architectural paneling, medical devices, chemical containers, heat exchanger, water filtration systems, etc.
6. Cost
301 stainless steel is much cheaper than 304 stainless steel. To some extent, grade 301 is developed to be a lower-cost alternative to grade 304. However, when buying, the final cost of 301 and 304 stainless steel varies depending on the supplier and the amount you purchase.
To sum up, it is clear to see that each one has unique advantages that make it suitable for specific uses and industries. So when choosing 301 or 304 stainless steel products, you should take product budget, using purpose, size, tax, supplier, etc., into consideration.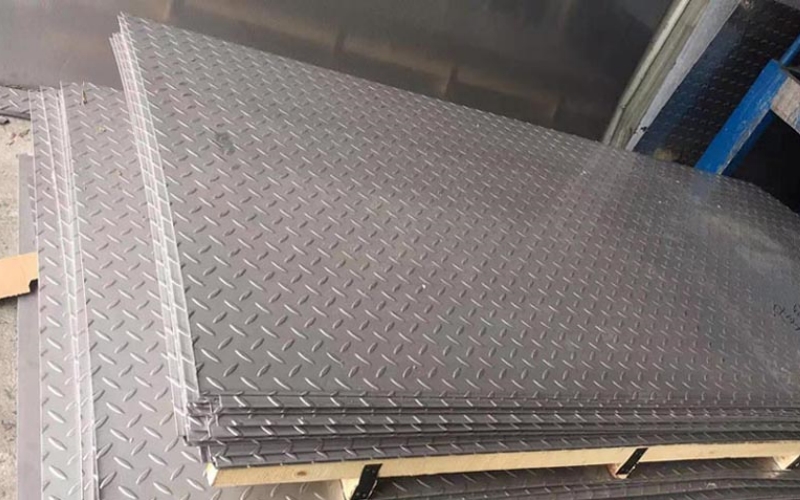 Conclusion
301 stainless steel pattern plate is a favorable alternative to many stainless steel products due to its cheap price and extensive usage. Gnee Steel is a well-known manufacturer, supplier, and exporter of superior-quality stainless steel products in China. We offer high-quality stainless steel in sheets, coils, pipe, fittings, foils, and profiles. They all can be selected in different dimensions, thicknesses, widths, lengths, and grades. What's more, we can support customization projects to better suit your or your customers' demanding needs. Welcome to talk with us for more details.